Optimize and organize your internal workflow with this in-app assigning tool.
When coordinating with multiple parties and staff, staying organized and tracking responsibilities is key! Use out in-app dropdown to track who is responsible for what. Assign Team Account Managers (TC's/Office Managers) or specific Doctors within the practice to specific patient consultations.
Assign from the 'Consultation Request' dashboard
Once you have your team/staff members setup in the 'Team' section a dropdown list in the 'Consultation Request' will populate

Select the drop down arrow and select which team member you would like to be assigned to that specific patient

Assign from within the patient's file
Click into the patient who you would like to assign a team member to
Scroll down the field titled 'Assign to a Team Member'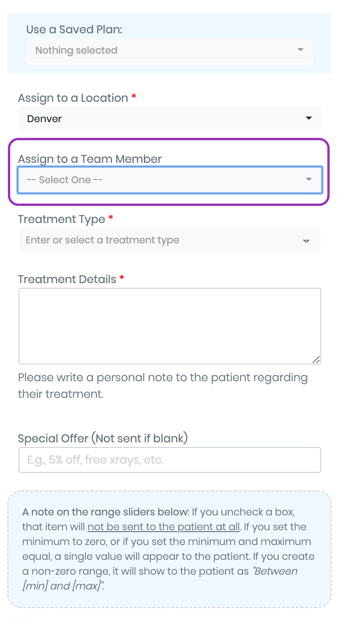 Select the team member you would like to assign.
Filtering consultations by Assigned Team Member
Click on the magnify glass in the top right corner of the 'Consult Request' screen


Go to the third drop down section titled 'Team Members'


Select a team member
The consultation requests assigned to that specific team member will be populated.
Note: The patient will never see the team member assigned to them in their communications. This is an internal tool.